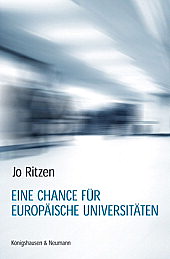 Since early May 2011 Jo Ritzen's book "A Chance for European Universities" is available in German. Shortly after the presentation at a symposion in Siegen, Germany, a book review by Claudia Søndergaard has been published in ESNA European Higher Education News, Bulletin N°098:
Jo Ritzen – former president of Maastrict University, former vice-president of the World Bank, former minister of education in The Netherlands and preparing his candidacy for the European Parliament in 2014 – is on a continuous quest for the progress of Europe's universities. He has founded an NGO called Empower European Universities, by which he seeks to promote his political ideas. His book "A Chance for European Universities" has now been published in German and was presented at the University of Siegen at the beginning of May.
His work delivers a critical review of the development within higher education, comparing the observed trends with the words of Winston Churchill when he in 1943 proclaimed that "the empires of the future will be empires of the mind." His main thesis is as following: The European HE system has failed dramatically to live up to Churchill's omen – any aspiration of excellence has been repeatedly pummelled by financial, bureaucratic, national and ideological factors. Ritzen predicts that if the governments continue to ignore the state of their knowledge institutions, a talent crisis will come in which the demand for qualified graduates will far exceed the European capacity for supply. The bleakest prediction is that knowledge will move elsewhere and European societies will become the losers.
An important element of the argumentation is the analysis of the problems facing the HE system. For example, Ritzen gives his support to the Lisbon treaty but blames those in power, who promised to implement it, for neglecting their responsibilities and failing to utilise momentum of the financial crisis to boost education. This development is the core critique by Ritzen – the partnership between governments and higher education is so defunct and governments so out of touch with the state of universities that the situation will continue spiralling downwards if nothing is done.
Ritzen argues in favour of the introduction of subnational standards and his rationalisation seems to be based in the realisation that Europe, divided into national countries, is helpless against the well-funded system in the US and the roaring development in Asia. He seems even willing to turn European collaboration up a nudge and suggests the development of a pan-European system of accreditation and of funding that he expects would revolutionise the institutions and further quality of teaching as well as advance research.
The author's fascination of the American system is striking despite his allegiance to Europe. He sees the benefit of competition and private financing but maintains his core belief that Europe is, at heart, the better system – not losing the global contest out of spirit but out of practicality. His book leads up to several policy proposals and suggestions for new approaches in European HE – both low-key, such as the introduction of English as a universal university language to improve exchange of students and knowledge, and high-profile, such as introducing union level governance of university funding and a European student loan scheme.
This book is clearly meant as a wakeup call for policy makers and university administrations, but also as a source of inspiration for their actions towards tackling the future of HE. While Ritzen refrains from making any practical suggestions, including feasibility analysis or proposals as to where the restructuring should start and how it would be financed, he delivers an engaging idea on which direction European HE should take. His conclusions are however not only relevant for policy makers and HE institutions; people with an interest in the future course of our society will find Ritzen's analysis highly interesting.
Download the entire ESNA Bulletin N°098 – 11/05/2011
Jo Ritzen
Eine Chance für europäische Universitäten
Königshausen & Neumann, Mai 2011
ISBN: 978-3-8260-4548-6
244 pages paperback €29.80
Order
First published in English:
A Chance for European Universities Or: Avoiding the Looming University Crisis in Europe"
Amsterdam University Press, 2010
224 pages paperback €29.00
Order